E-Safety
At The Robert Drake Primary School, all pupils are given regular e-safety lessons which cover a variety of topics.
We are aware that many parents share the same concerns as the school about the dangers posed to children when they are online. We have held e-safety information evenings for parents to give them advice and we will continue to do this in the future.
We have had workshops for pupils and parents from the Breck Foundation. If you would like to see further information about the Foundation, herewith the link:
https://www.breckfoundation.org/
At Robert Drake Primary, the pupils have access to a range of electronic devices but these have filters on them to restrict the content they can access. The school uses https://swiggle.org.uk/ as its default search engine because this has a built in filter offering an additional layer of security.
We also encourage parents and carers to set up appropriate filters when using the internet at home. For information about this for the major providers of internet please click the link below:
http://www.saferinternet.org.uk/advice-and-resources/parents-and-carers/parental-controls
O2 and the NSPCC have worked collaboratively to put resources together about setting up filters. You are able to visit your local O2 shop and ask them to assist with setting up the appropriate filters on your electronic device. You do not have to be an O2 customer to use this service. More information can be found below:
https://www.o2.co.uk/help/nspcc
Talking to children about online safety can be difficult. If you are unsure of how to approach the subject then you can find some conversation starters via the link below:
https://www.nspcc.org.uk/keeping-children-safe/online-safety/talking-child-online-safety/
The Child Exploitation and Online Protection Centre (CEOP) also has an informative website for parents and carers. You are able to find more information how to report any concerns directly to them further down the page. Please click the link below to visit the page:
https://www.thinkuknow.co.uk/parents/

Apps and Advice
Herewith is a link to a website, set up between O2 and NSPCC, which gives excellent guidance on the different apps, along with their use, how to keep children safe and any potential dangers children may face:
We also list herewith details with regards the official minimum age that is required to use certain apps: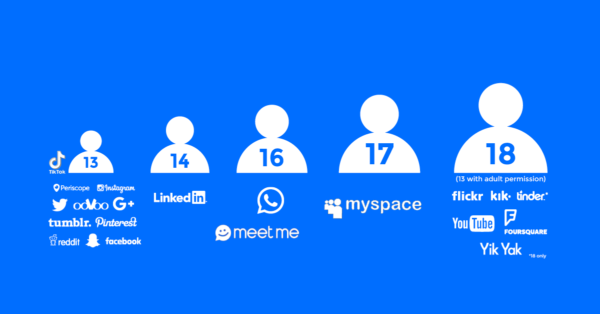 For further information and support, you can also visit these websites :
-https://www.internetmatters.org/
-https://www.lgfl.net/online-safety/resource-centre
-https://www.commonsensemedia.org/
Reporting to CEOP
Child Exploitation and Online Protection (CEOP) helps any child or young person under the age of 18 who is being pressured, forced or tricked into taking part in activity related to child exploitation of any kind. This can be something that has taken place either online or in 'the real world', or both. The CEOP Safety Centre has clear information and advice on what can be reported to CEOP, the reporting process and what will happen if you do decide to make a report. You can visit the CEOP Safety Centre and make a report directly to CEOP by clicking the Click CEOP button.

If your child is experiencing online bullying or something else online has worried them, they should speak to an adult they trust. Alternatively, they can talk to Childline at any time on 0800 1111, or at www.childline.org.uk.
School News
We will be holding a Year 6 Leavers Disco on Monday 18th July 2022 at 3:45 - 5:15pm. Full details…
The school will be holding an 'Open Afternoon' for parents and carers to come in and look at their…
---